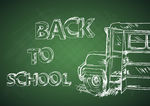 Change in Transportation:
~ If your child is riding the bus to and from home, you do not need to fill out any transportation forms.
~ All changes remain in effect, from year to year as well, until a new one is received and acknowledged by your building secretary.
~ Bus schedules for the upcoming school year will be sent to you by mail just before the beginning of the school year.
~HELP us to find your child's pick-up and drop-off address!
~Did you know.........We are all required to put 4 inch high numbers, in contrast to their background, on our homes?