Students from Mr. Steffan's and Mr. Brown's 6th grade classrooms dropped off food yesterday at the Corfu Food Pantry. The food was purchased by teachers and staff at the Intermediate School through their Dress Down Days! Students delivered Thanksgiving food that will be sent out to members of our community! 🖤💚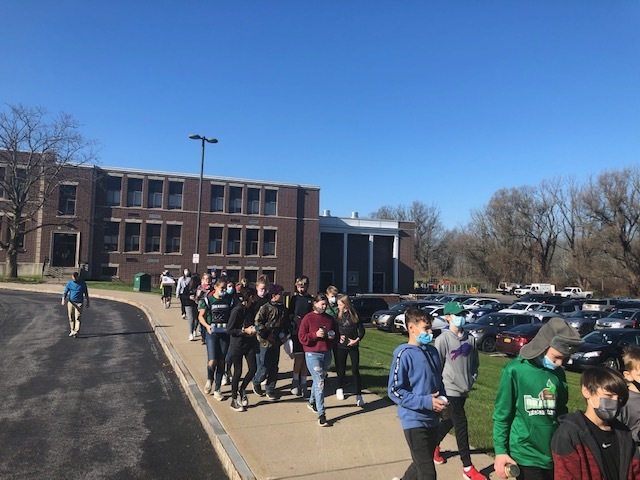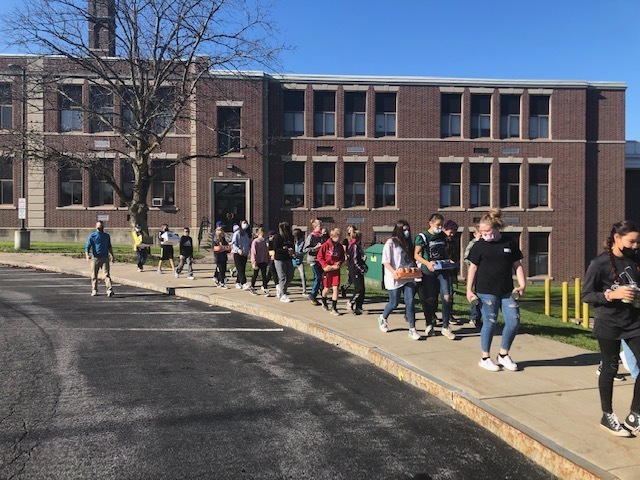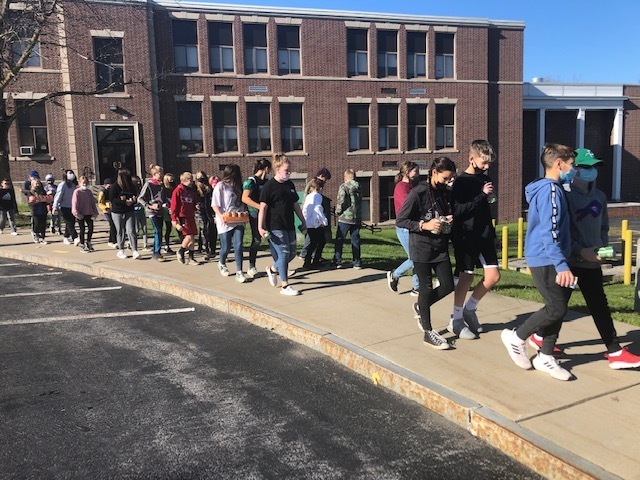 Yesterday, the Senior High Math Team had their first competition of the year. They did very well and defeated both Pavilion and Batavia High Schools. Great job Dragons!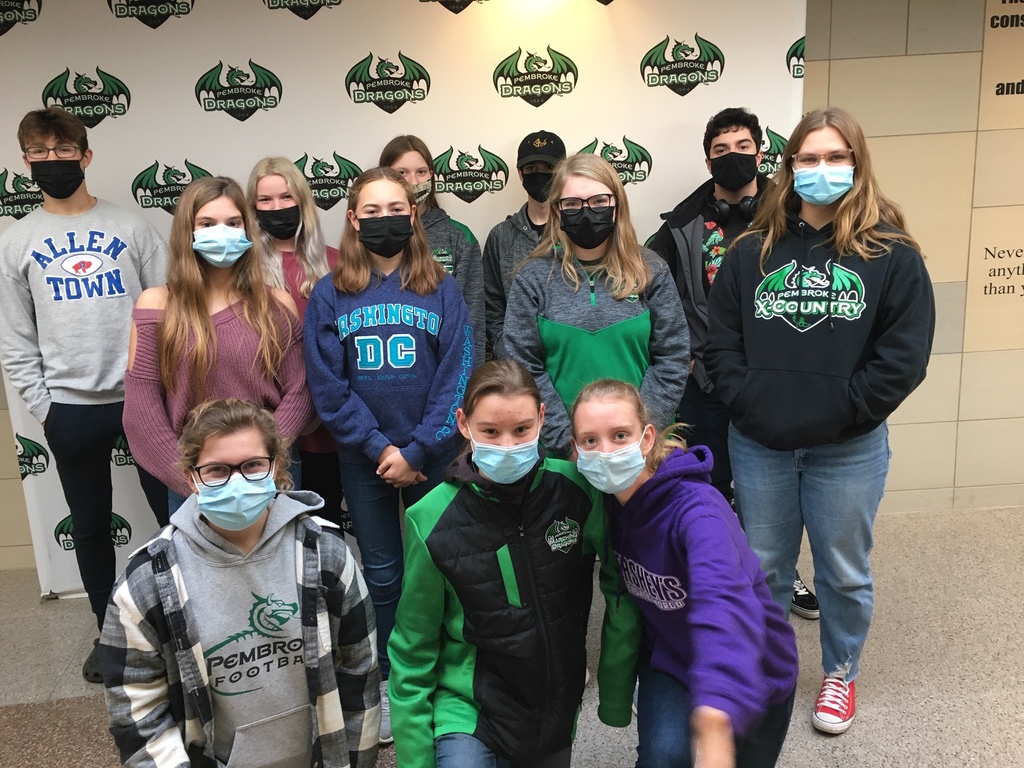 The 1st quarter will officially end on Friday, November 5, 2021. Digital report cards will post on the Schooltool Parent Portal on Friday, November 12 at 3pm. The Pembroke CSD Schooltool Parent Portal found at:
https://st.edutech.org/pembroke/
. The Parent Portal allows parents/guardians and students to "click through" students' grades and see teacher comments, assignment descriptions, and individual assignments that comprise the grade. Parents and students can view what teachers are putting in the grade book or homework assignments through the web-based system or by using the Schooltool app found at both the iTunes App Store and the Google Play Store. Students also can use the system to track their individual progress. Student Access: All students can log into the tool using their gmail username and password. Parent/Guardian Access: In order for you as parents or guardians to view/utilize the Schooltool Parent Portal, as well as view the electronic report cards, you will need a Schooltool Portal Portal account. Parents and Guardians: If you already have an email address on file with the District office, a Parent Portal account was automatically generated for you and you should have received an email with your username and password information, as well a link to log onto SchoolTool. If you did not receive the welcome email at your registered email address, please email
support@pembrokecsd.org
and it will be resent to the email we have on file for you. If we do not have an email on file for you, please complete the form found at:
https://bit.ly/3aWGQVZ
and submit it to your school's secretary. For more information on using our Schooltool Parent Portal, check out this great Parent Access Guide at:
https://bit.ly/3kAZC8C
. Parents who do not have access to a computer may request a paper report card by contacting their school's Guidance Department at 585-599-4525 x1930 at the Jr/Sr High School, 585-599-4561 x2931 at the Intermediate School, and at 585-762-8713 x3931 at the Primary School. Please let us know if have any questions or need any assistance. Thank you, Christie Maisano Director of Technology Pembroke Central Schools


Photography club enjoyed a rainy day at Letchworth State Park this past Saturday October 23rd!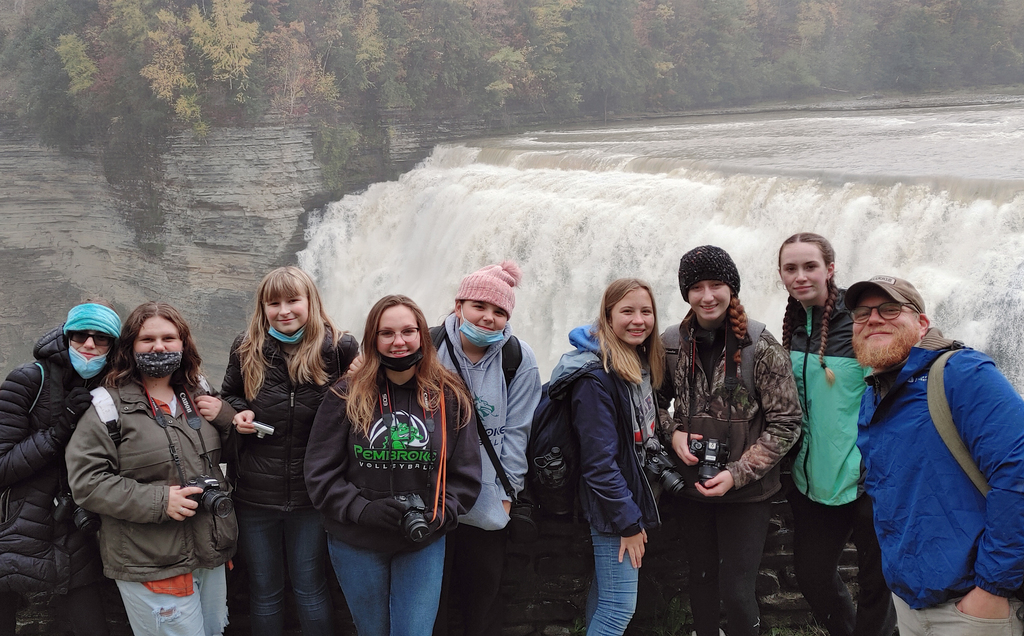 8th grade students in Mrs. Becker's Family and Consumer Science took part in their very own "Career Fair". They researched careers that interested them, then hosted "booths" to share the careers with their classmates.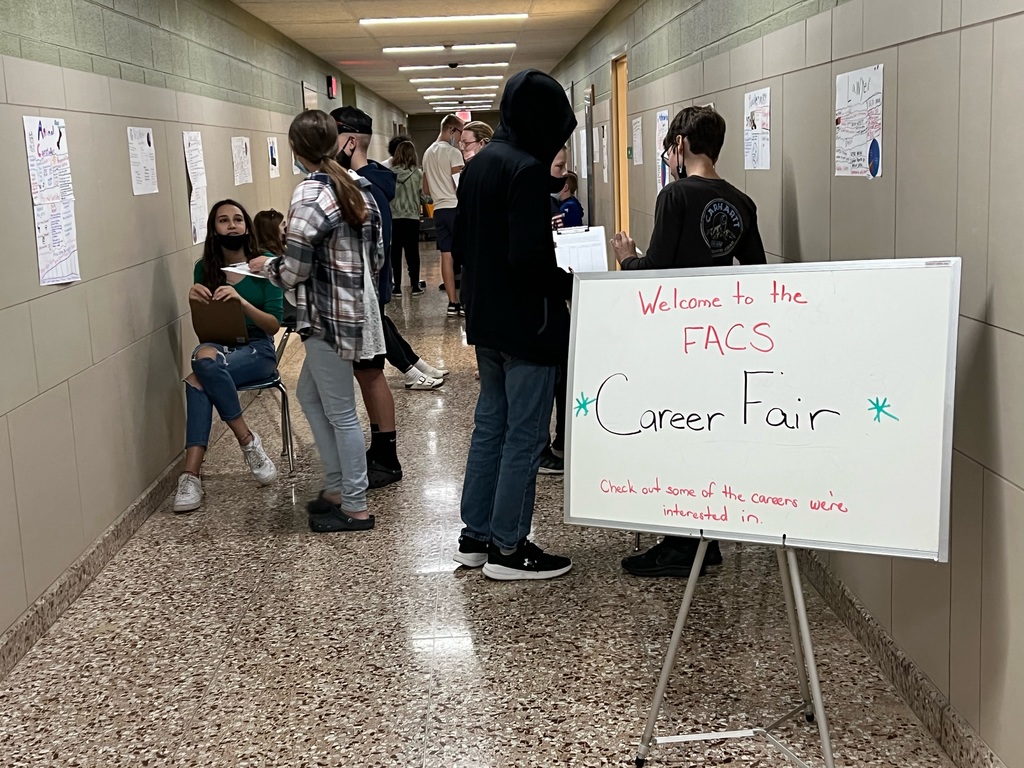 Consider going to Denny's for dinner tomorrow night (Wednesday, 10/13). The Class of 2022 will earn 20% of every dollar you spend from 4-10 pm. We appreciate your support!

The Class of 2022 is heading up the Pembroke gear sale this year! The store will be open multiple times throughout the year, and the first window to order will begin TODAY, 9/28. The store will be open 9/28-10/15 and can be accessed here:
https://pembroke2021.itemorder.com/shop/sale/
*Orders will be shipped to the high school about one week after the deadline listed (October 15th). You will be notified when the order is in and you can pick up your items. If you have any questions, please feel free to email:
apiccolo@pembrokecsd.org
Thank you for your support! The Class of 2022 Mr. Piccolo - Class Advisor

Attentions Dragons!! At tomorrow night's football game, the players and community will be commemorating the 20th Anniversary of the 9/11 attacks. At the start of halftime (approximately 8:00 pm), the 9/11 commemoration will take place at midfield. Members of our local fire departments, police, military, and Veterans Outreach Club will be represented. We would like to invite the entire community to attend! Especially past or present first responders, firefighters, police, and military. We look forward to seeing you!

Attention Primary School families! We would like to remind you of our supply drop off and meet the teacher event which will be held this Friday, September 3rd from 1:00-2:30 PM. Students, bring a friendly letter or a picture introducing yourself to receive a small gift! We hope to see you!

Dragon's Bridge will be held Sept. 2nd from 5 PM-7 PM. All 7th graders are encouraged to attend this orientation night. Hope to see you there!

Attention all soon to be 4th graders (and parents): Starting in September YOU get to join the band program and play an instrument! Miss Komosinski is very excited to meet all of the upcoming 4th graders and will be starting to pass out more information about joining the band during the second week of school. In the meantime, check out the website below to start to learn about the band program. Using this website, students can learn about all of the different instruments we offer here at Pembroke and hear what each one sounds like! Parents can learn about the logistics of our program and what it will take to sign their child up. If the videos don't play right away, just give them a second to download and email Miss Komosinski at
ckomosinski@pembrokecsd.org
if you have any issues or questions!
https://sites.google.com/pembrokecsd.org/learn-about-the-band/home

Dragons, Unfortunately, there will be no driver education this year due to a shortage of instructional staff. We apologize for the inconvenience!

Good Morning Dragons! Throughout today and tomorrow the school network will be offline while undergoing major upgrades. This includes our phone system. If you need to contact any of the buildings, please use the phone numbers listed below. Thank you! High School: 716-388-6365 Intermediate School: 716-290-5745 Primary School: 716-225-4339

Dear Parents and Guardians, The 4th quarter has officially ended and report cards K-12 are now posted to the Schooltool Parent Portal. To view your student's report card, please follow the steps: 1. Go to
https://st.edutech.org/pembroke/and
log in. Your username is the email address the school has on file for you. 2. Click the little BLUE ARROW next to your child's name. 3. Select the GRADES TAB. 4. Under VIEW select Marking Period Grades and be sure QTR 4 is selected. 5. Click the Printer Icon. The actual report card that you are used to will pop up in a new window. (Make sure your pop-up blocker does not prevent this window from opening. Check the instructions found here to get past this: goo.gl/S2SFHz) 6. You can choose to Print the report card (blue circle) or Export it (red circle) to save it on your computer. More detailed steps with pictures can be found here:
https://bit.ly/2UyaJo8
. If you did not receive the welcome email at your registered email address, please call or email Christie Maisano at 585-599-4525 x1999 or
cmaisano@pembrokecsd.org
and it will be resent to the email we have on file for you. Parents who do not have access to a computer may request a paper report card by contacting their school's Guidance Department.

Tonight's commencement ceremonies will be live-streamed on our Pembroke CSD Youtube Channel. We will be going live about 5-10 minutes before the start of each ceremony. Recordings of the livestream will be archived and available for viewing later if you miss any part of the ceremony. You can find our channel by searching Pembroke Central Schools on YouTube or by clicking on this link:
https://www.youtube.com/channel/UCnU0FvMd2DZHlZ6WEjOG4pg
We wish each graduating senior warmest congratulations on your graduation and best wishes for your next adventure!

We are excited to kick off our Intermediate School award ceremonies tomorrow starting with Grade 3! We will be live streaming all of the ceremonies on our district YouTube channel. That can be found by either searching Pembroke Central Schools on YouTube or by clicking the link below. We will go live about 10 minutes prior to the start of each ceremony!
https://www.youtube.com/channel/UCnU0FvMd2DZHlZ6WEjOG4pg

Our 6th grade legacy project is complete! Our Intermediate School auditorium has new life! Mrs. McKenrick is very proud of all of the 6th graders who worked on this mural! We hope that whenever you return to the IS in the future, you will remember that this is YOUR mark. Congratulations on a job well done!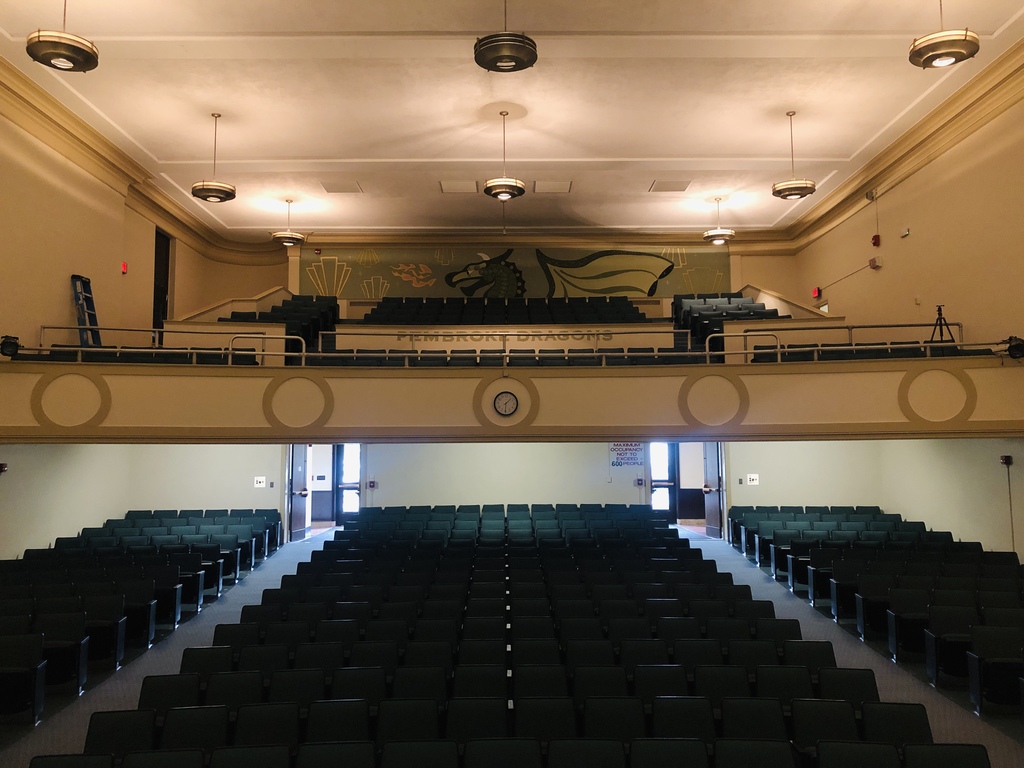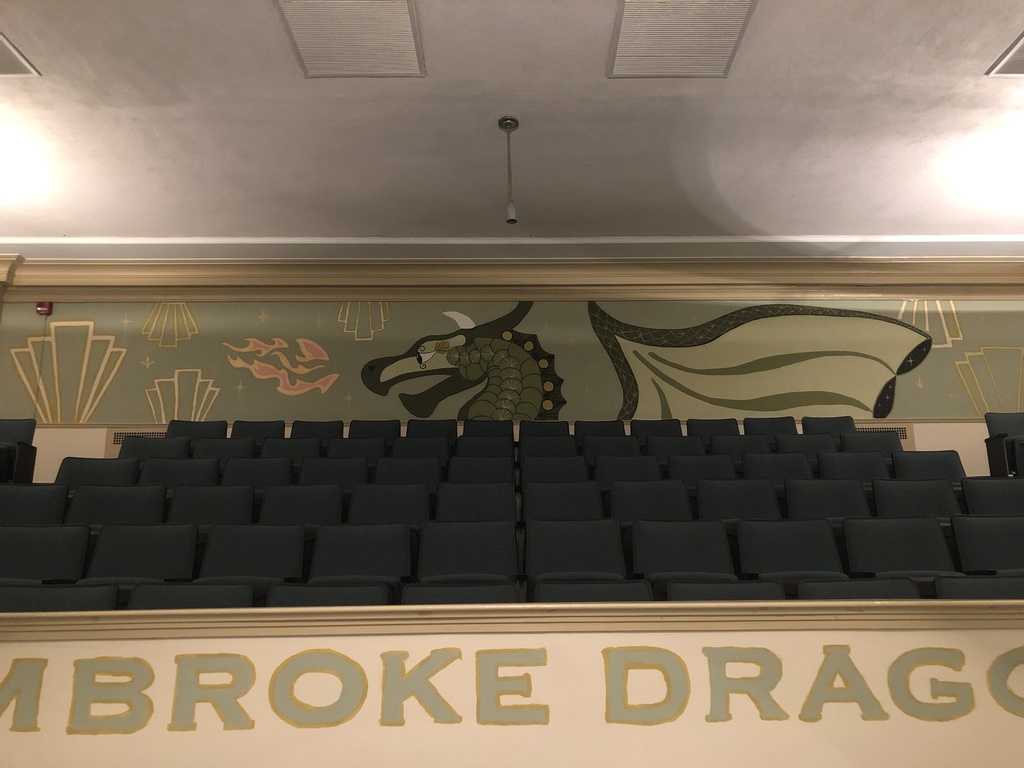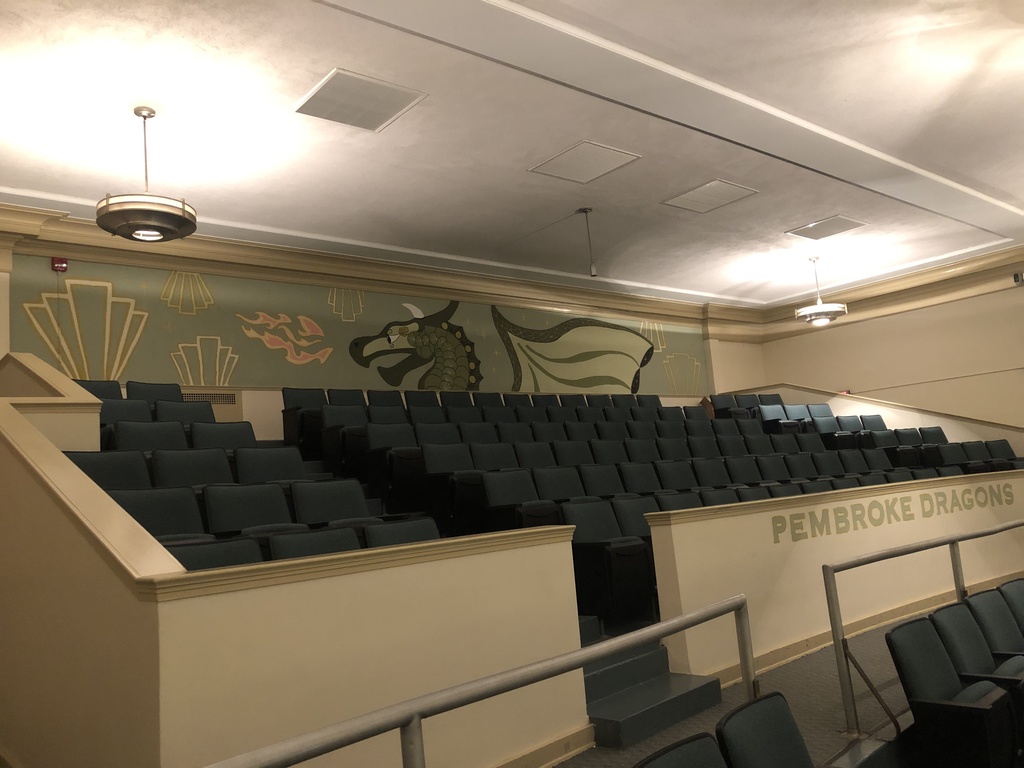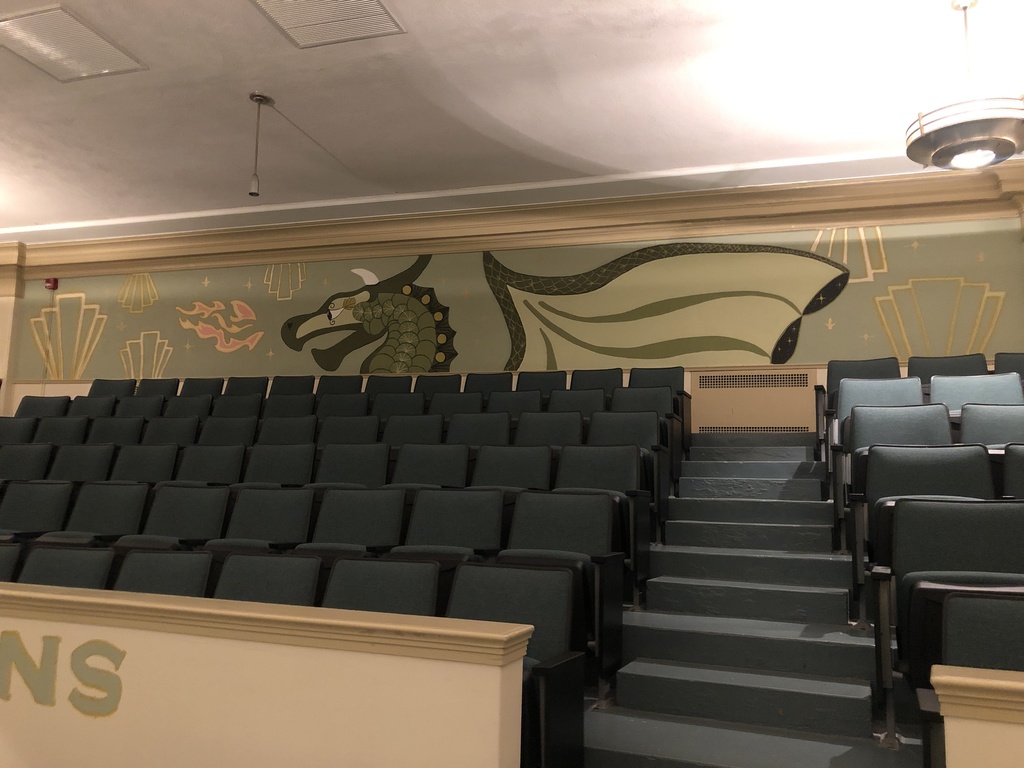 Our Intermediate School balcony mural made some big moves yesterday with help from students from all four sixth grade classes! While the kids are remote today, Mrs. McKenrick will add more details and touch up a few spots and then we're done! We can't wait for our IS families to see this collaborative art in person during next week's awards ceremonies!