Page Turners competed today and won the fall competition with 26 points! Next closest team was Alexander with 17 points. Great job!!!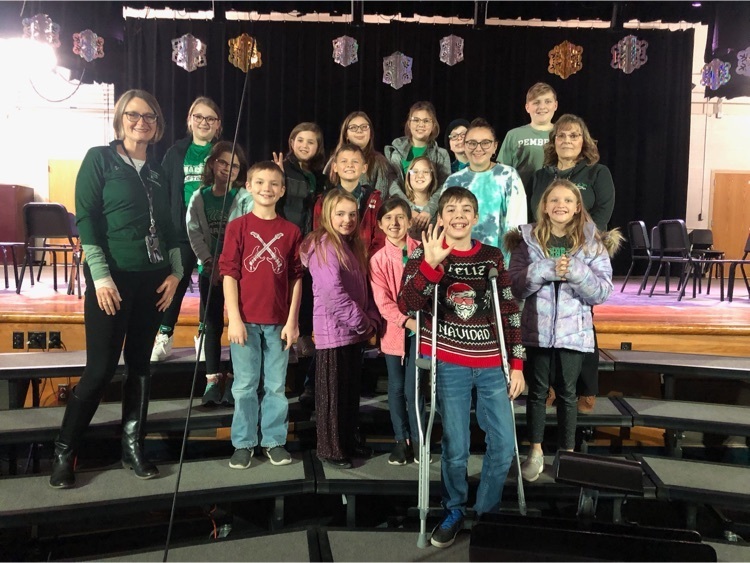 Intermediate School Holiday Concert is this Thursday!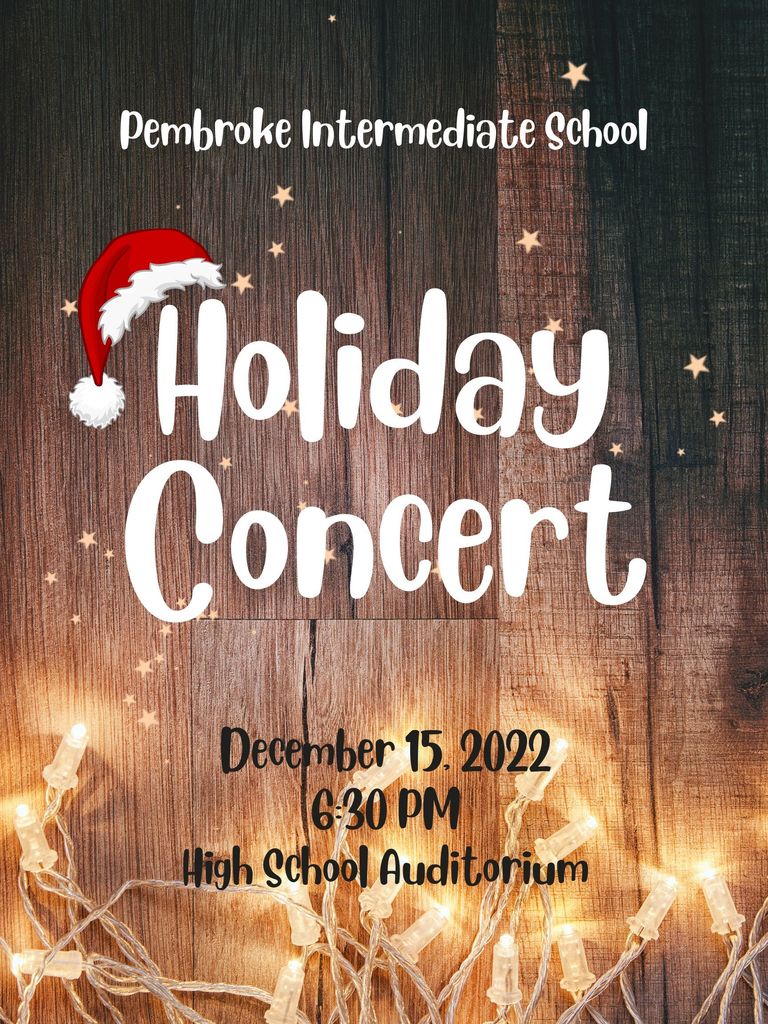 Check it out!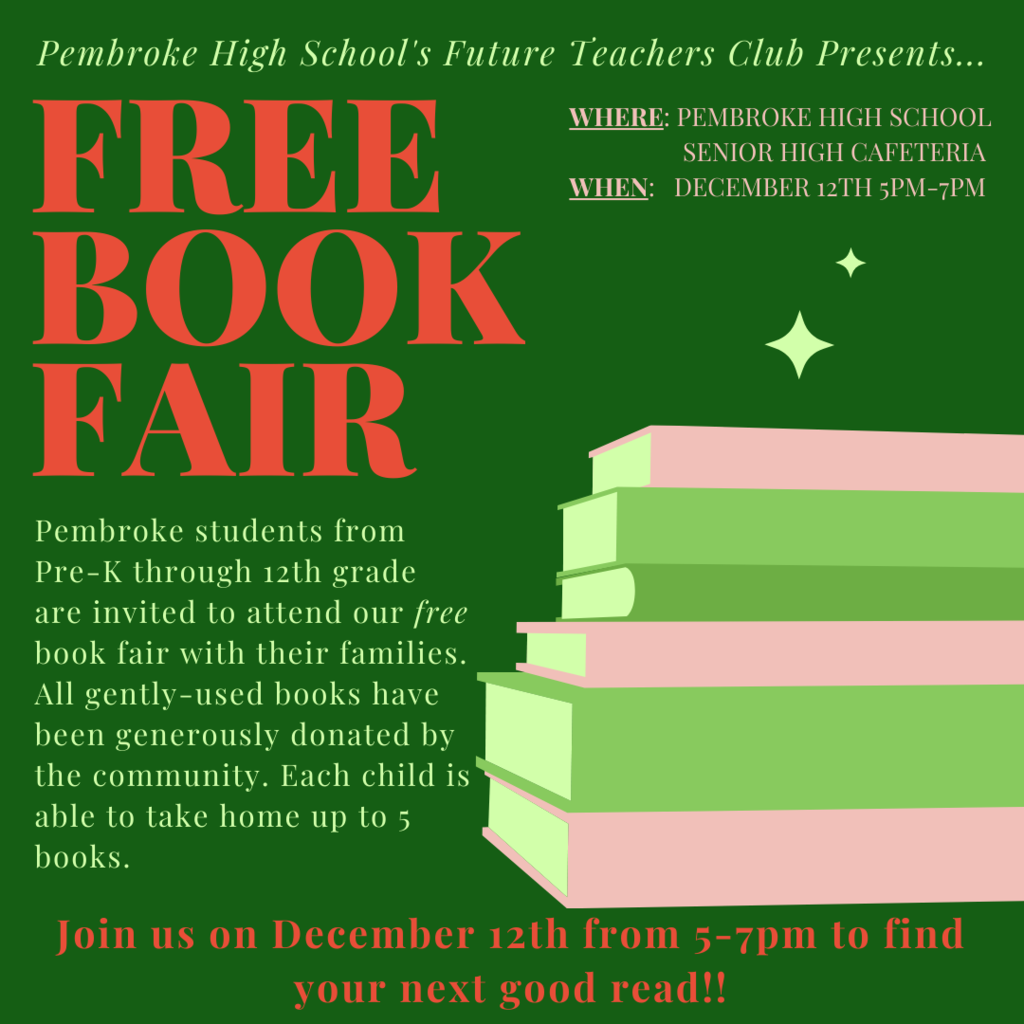 The Intermediate School December Drive is in full swing! Bring in your items each morning to the December Drive Drop-off! Last day to donate is December 15th!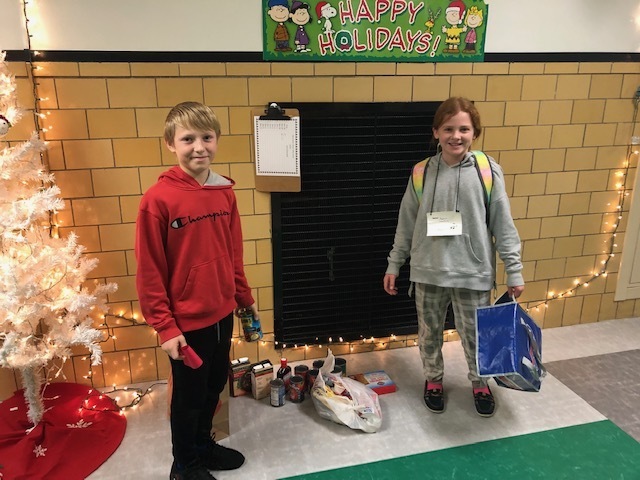 The faculty and staff at the Intermediate and Primary Schools teamed up to help local families this Thanksgiving. Through the PTF Dress Down Fridays, money was collected at each building. Money was used to purchase 5 Thanksgiving dinners for the Corfu Food Pantry. Students from Mrs. Fenik's 4th grade class and Mr. Brown's 6th grade class delivered the food on November 17. Each dinner includes: A turkey A roasting pan Yams Stuffing Mashed potatoes Green beans Cream of mushroom French fried onions Carrots Cranberry sauce Gravy Butter Rolls Pie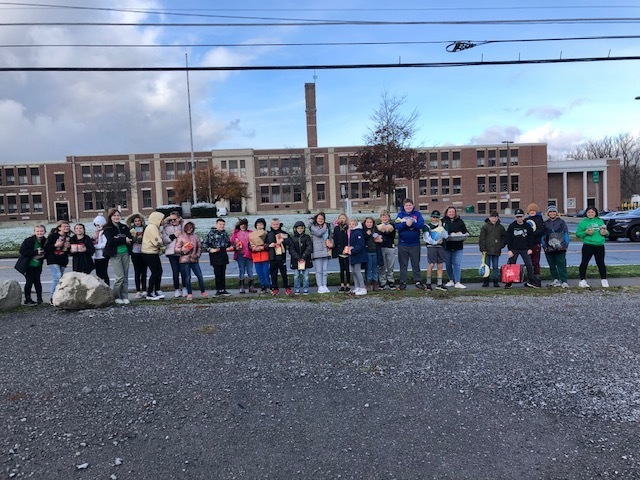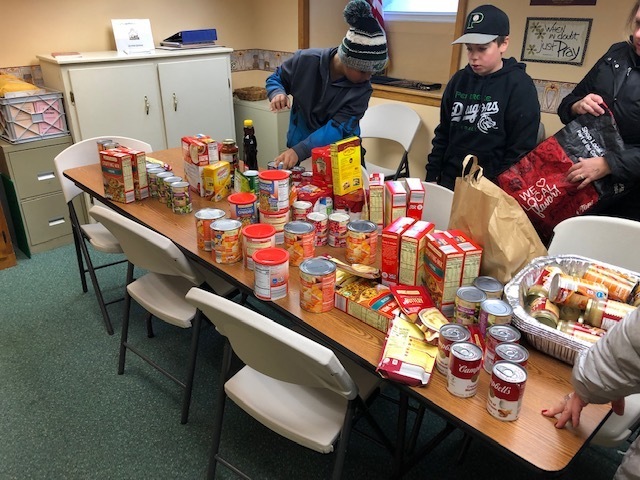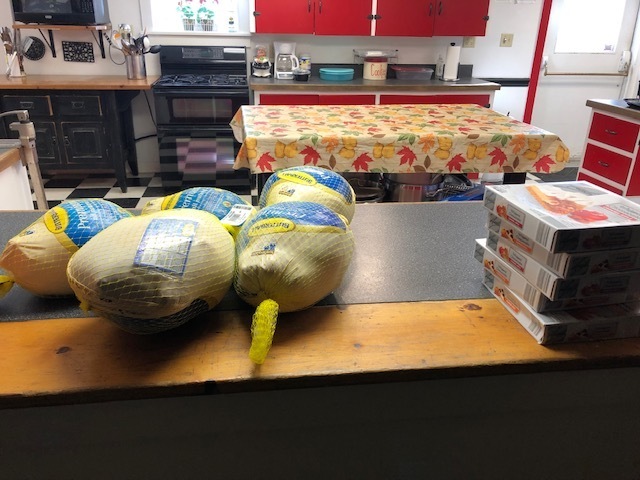 Don't forget: The Intermediate School Book Fair will be open tonight from 4:00 to 6:30! Come pick up some new books and stop by the concession stand! We hope to see you there!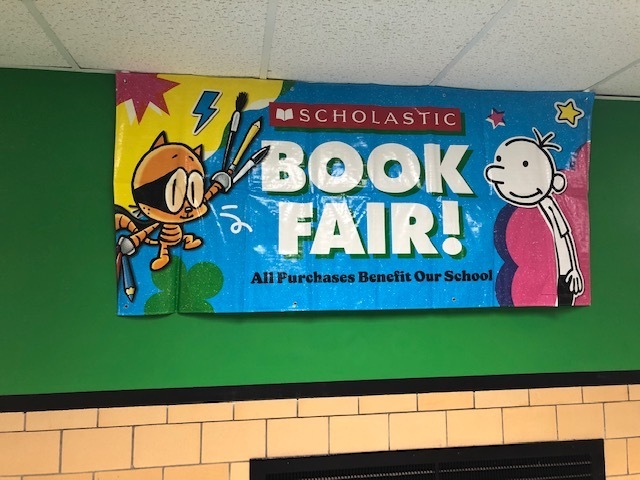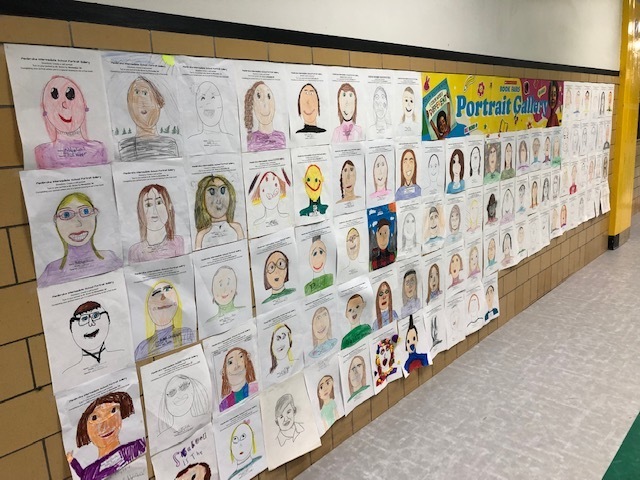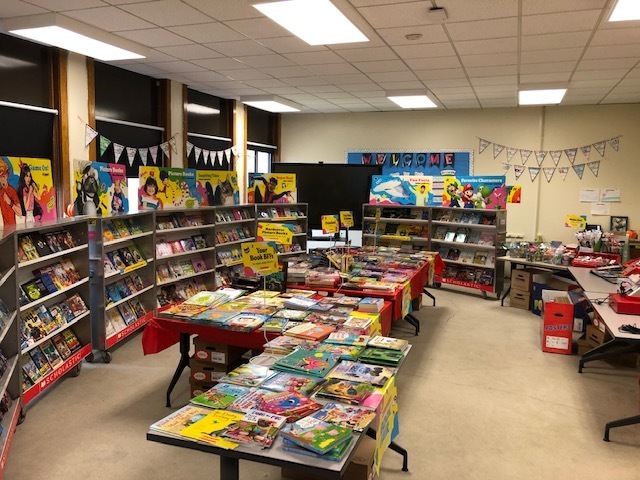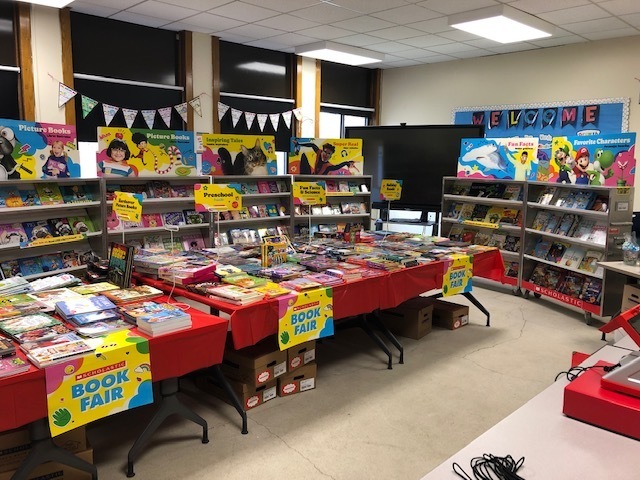 The Intermediate School Scholastic Book Fair will be open this Wednesday evening from 4:00 to 6:30pm! Come browse as a family and pick up some of the greatest books in the world! The Intermediate School Student Council will also have a concession stand with some delicious treats!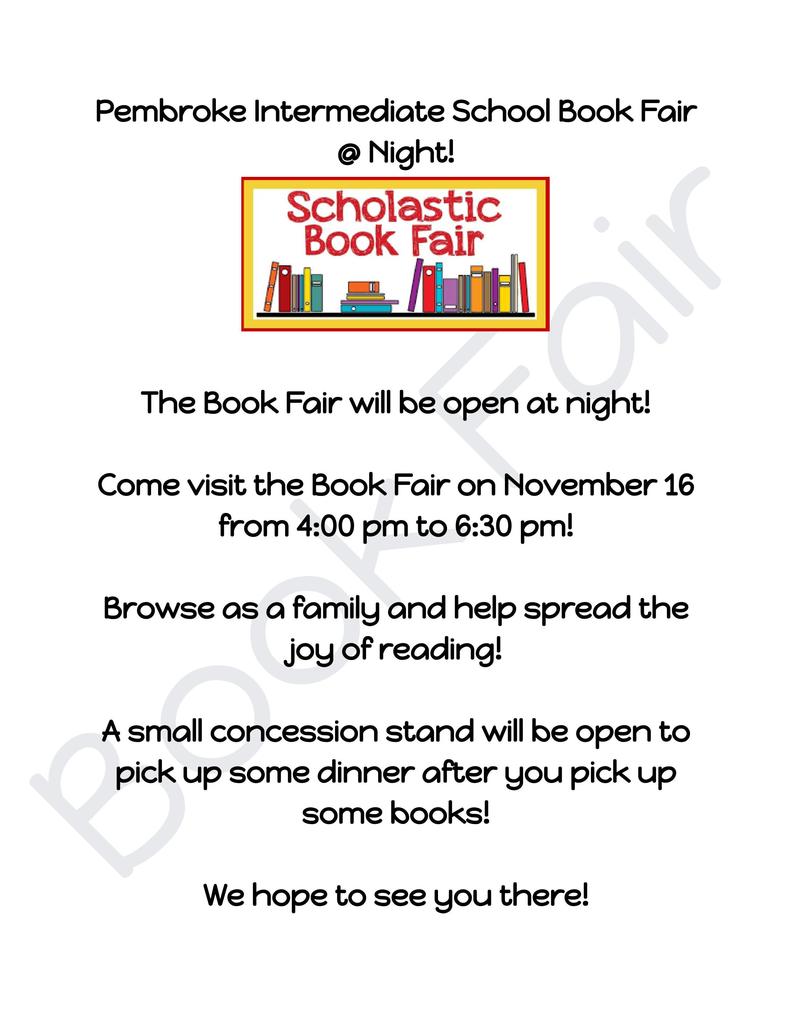 It was wonderful to have local veterans as well as the patriot guard come and visit our friends at the primary school! Students were able to ask questions and learn more about the military and those who have served our country! Thanking you everyone for joining us this morning!!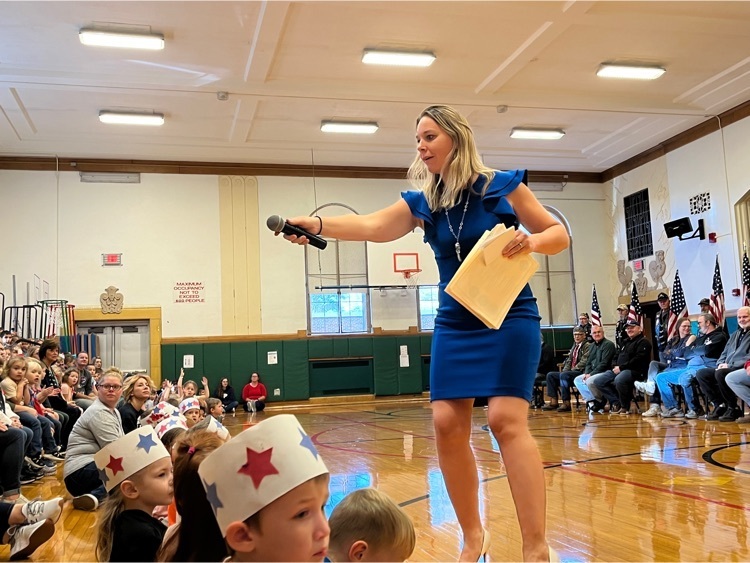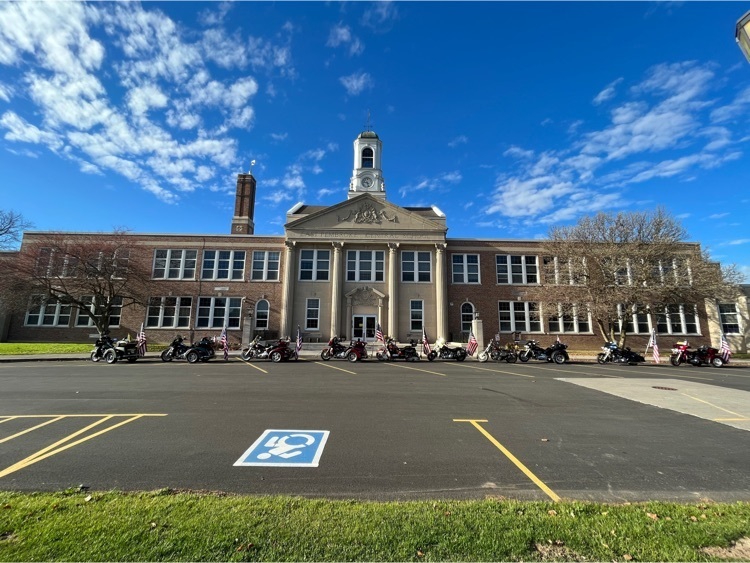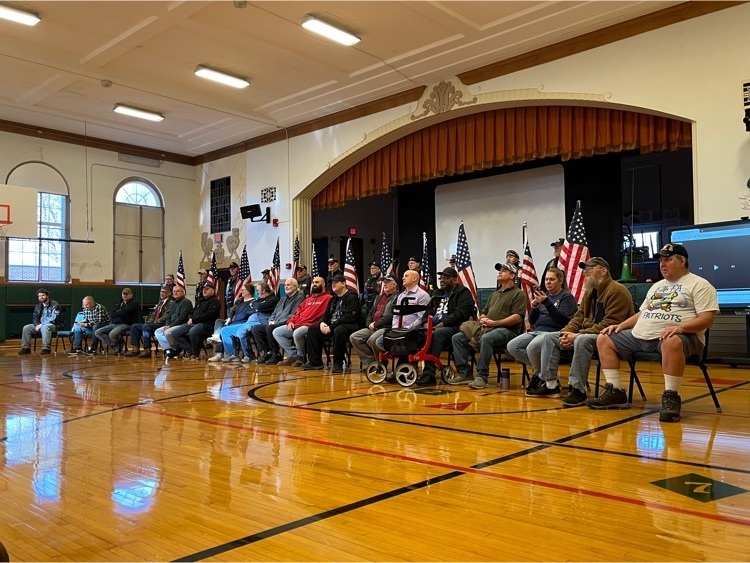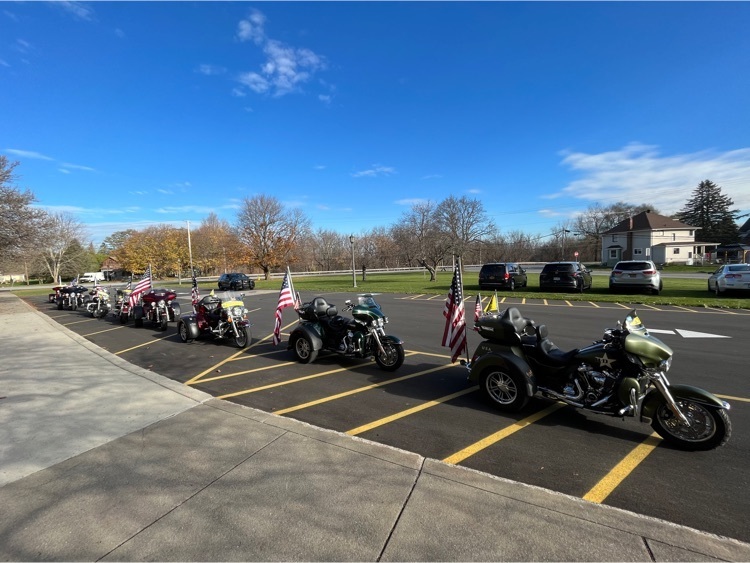 The 6th grade team recently hosted the Korman Challenge! During the month of October, students were challenged to read a book by author Gordon Korman. At the end of the month, 24 students completed the challenge and were invited to the Korman Pizza Party. At the party students received a certificate recognizing their hard work, as well as a special video message from Gordon Korman himself! HOMESLICE 33 also got in on the fun and donated two sheet pizzas for the reading challenge! The 6th grade team would like to thank every student for their hard work and stay tuned for more reading fun! Thank you HOMESLICE 33 for supporting our students! The pizza was delicious!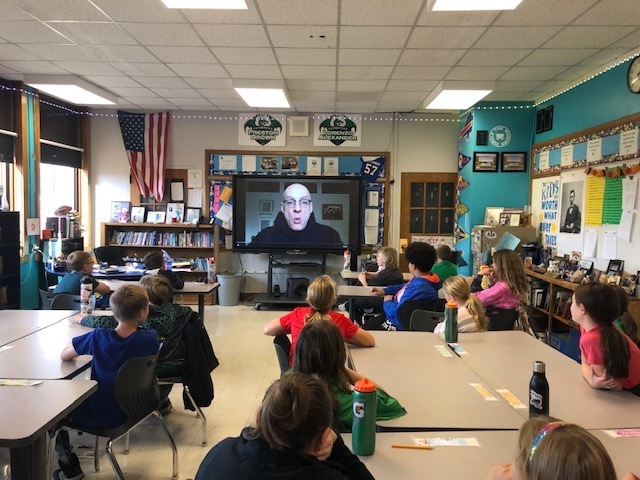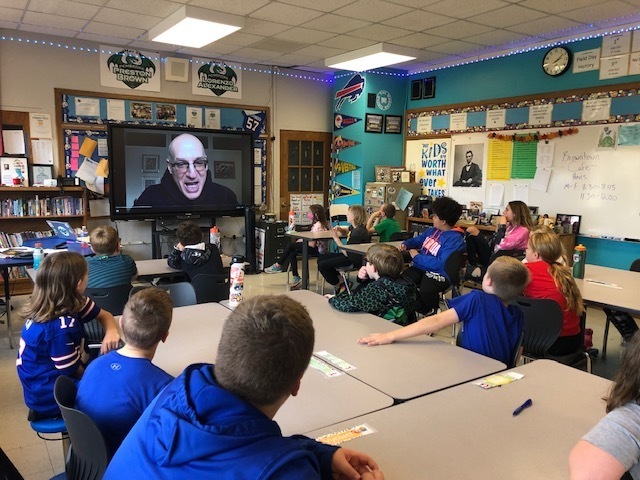 A huge congratulations to Lillian Scroger and Lincoln Landis on their participation in the New York State Area All State Music Festival! This festival is the highest level of music a student can achieve in NY State at this point in their musical career. It is a Huge Honor! Congratulations to both Lily and Lincoln!


The Intermediate School Scholastic Book Fair begins on November 14 and goes through November 18! This year, the Book Fair will be open during evening hours! On November 16 from 4:00 to 6:30, the Book Fair will be open! Bring your family and browse the amazing books together! The Intermediate School Student Council will also have a concession stand...so bring your appetite!

Please share!! We are looking for someone to fill in as part of the dragon family! Contact Sandra Lang at
slang@pembrokecsd.org
with questions or interest.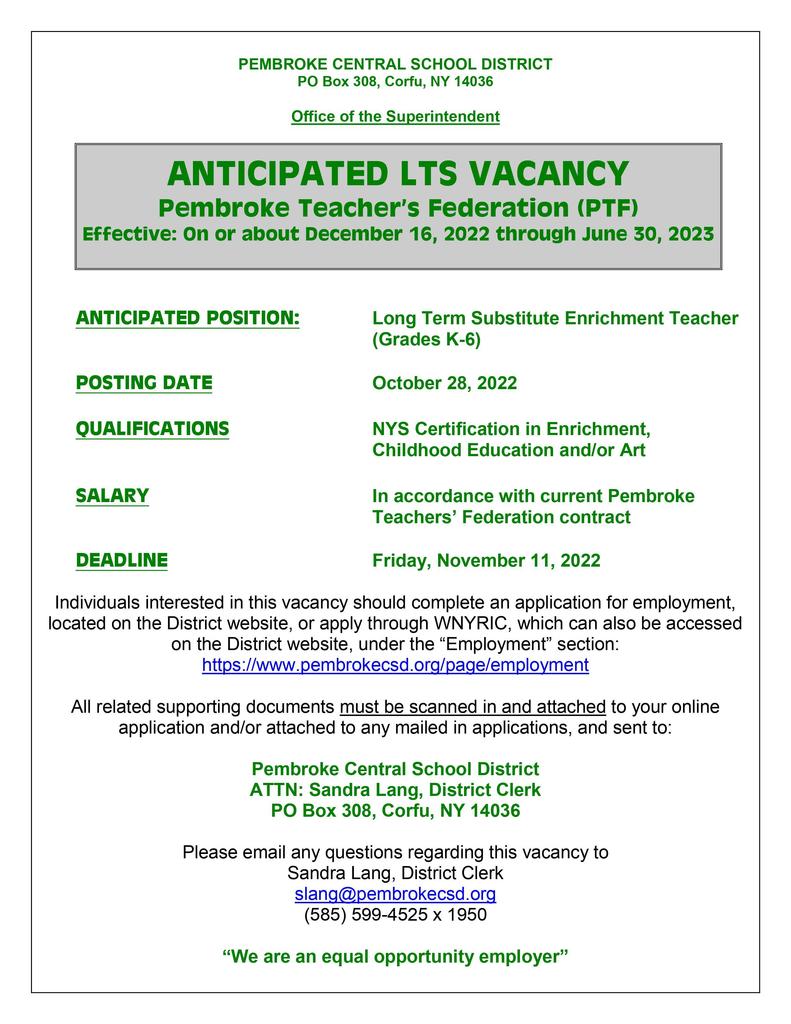 Pembroke celebrated National Manufacturing Day by taking a group of 11th and 12th graders to three local manufacturing companies. They toured the facilities and learned about the many different career opportunities!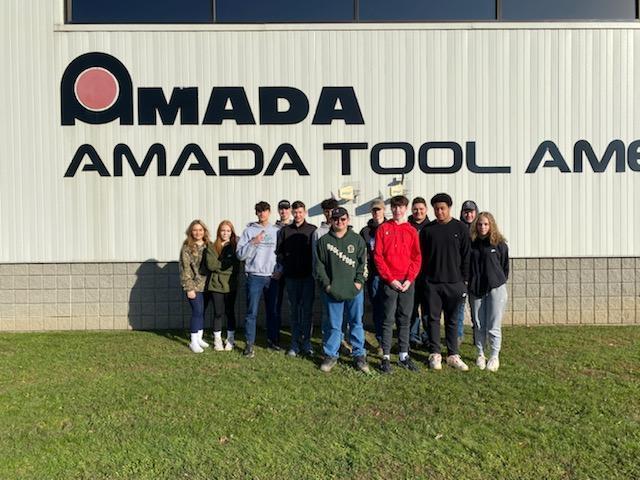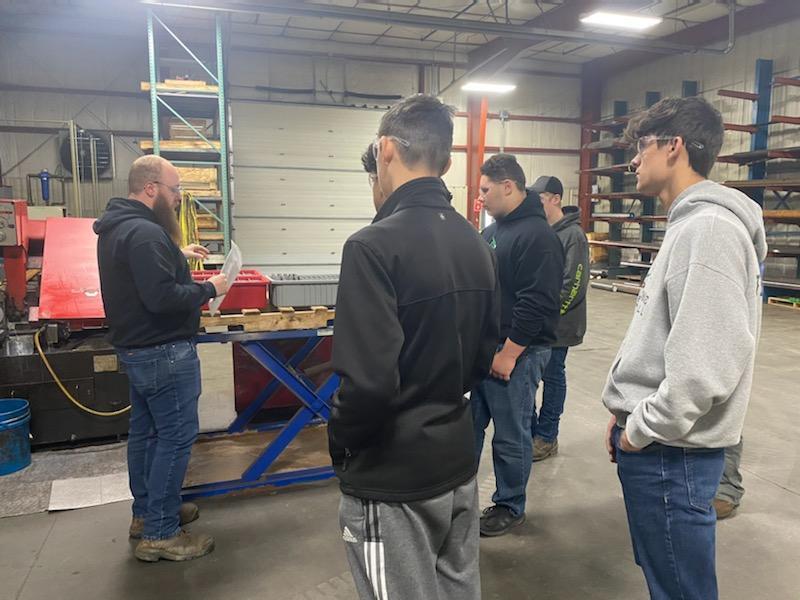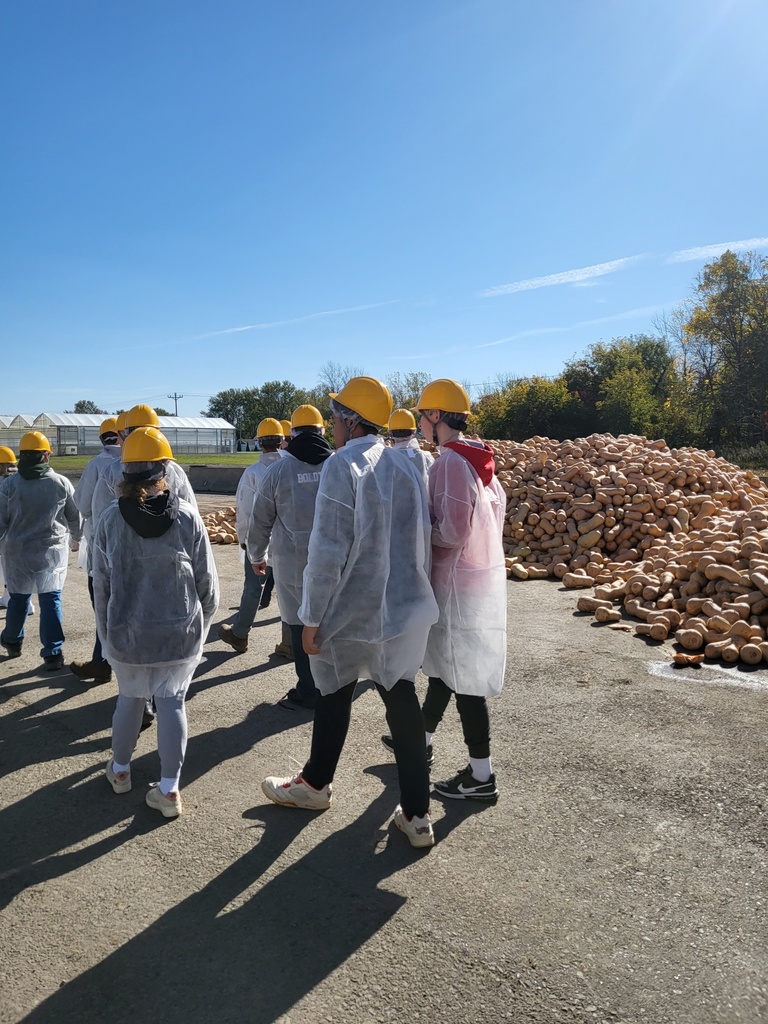 We are in need of an LTS Art Teacher! Spread the word! Please contact Sandra Lang, District Clerk, at
slang@pembrokecsd.org
with questions or interest.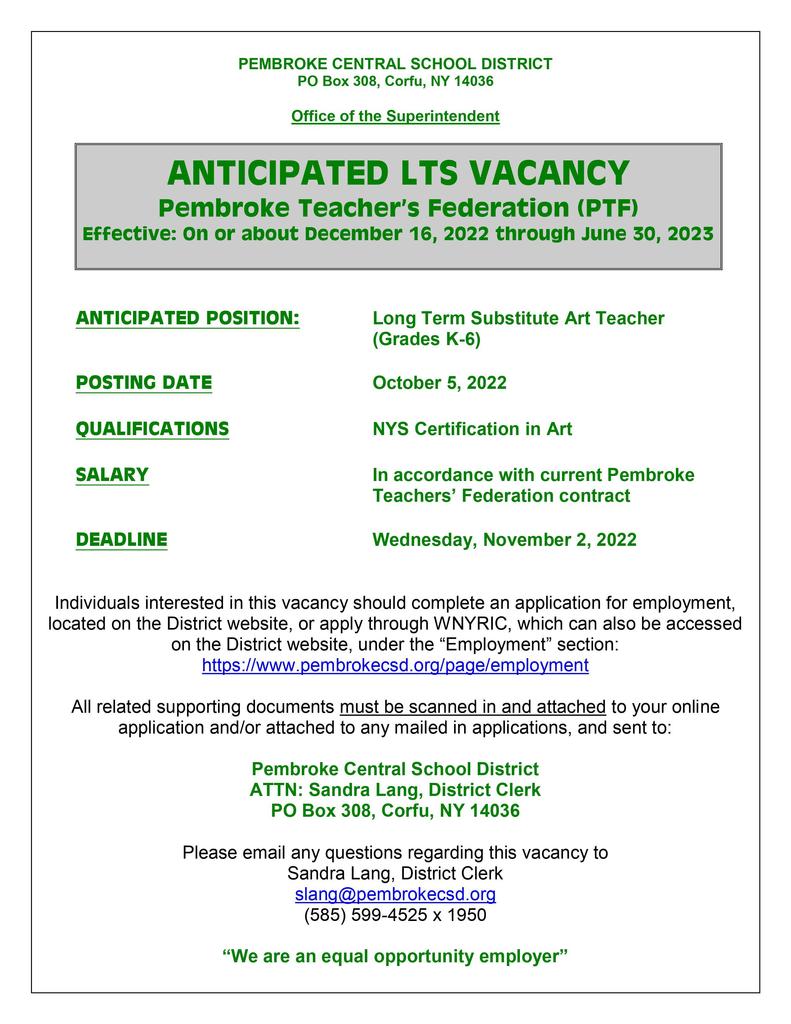 The Pembroke Unified Team is participating in the Polar Plunge in December to raise money for Special Olympics. Please consider donating to our team!
http://events.nyso.org/site/TR/Plunge/POLARPLUNGE?team_id=14026&pg=team&fr_id=2740
You can also find our page by going to the Polar Plunge website and searching our team name ("Pembroke Unified"). Our Dragons will be doing the Plunge on Saturday, December 3rd!

In honor of #schoolboardrecognitionweek, we would like to thank the Pembroke CSD Board of Education for their commitment to our students, staff, and community! John Cima, President Ed Levinstein, Vice President Arthur Ianni, Member Amber Winters, Member Randy Fancher, Member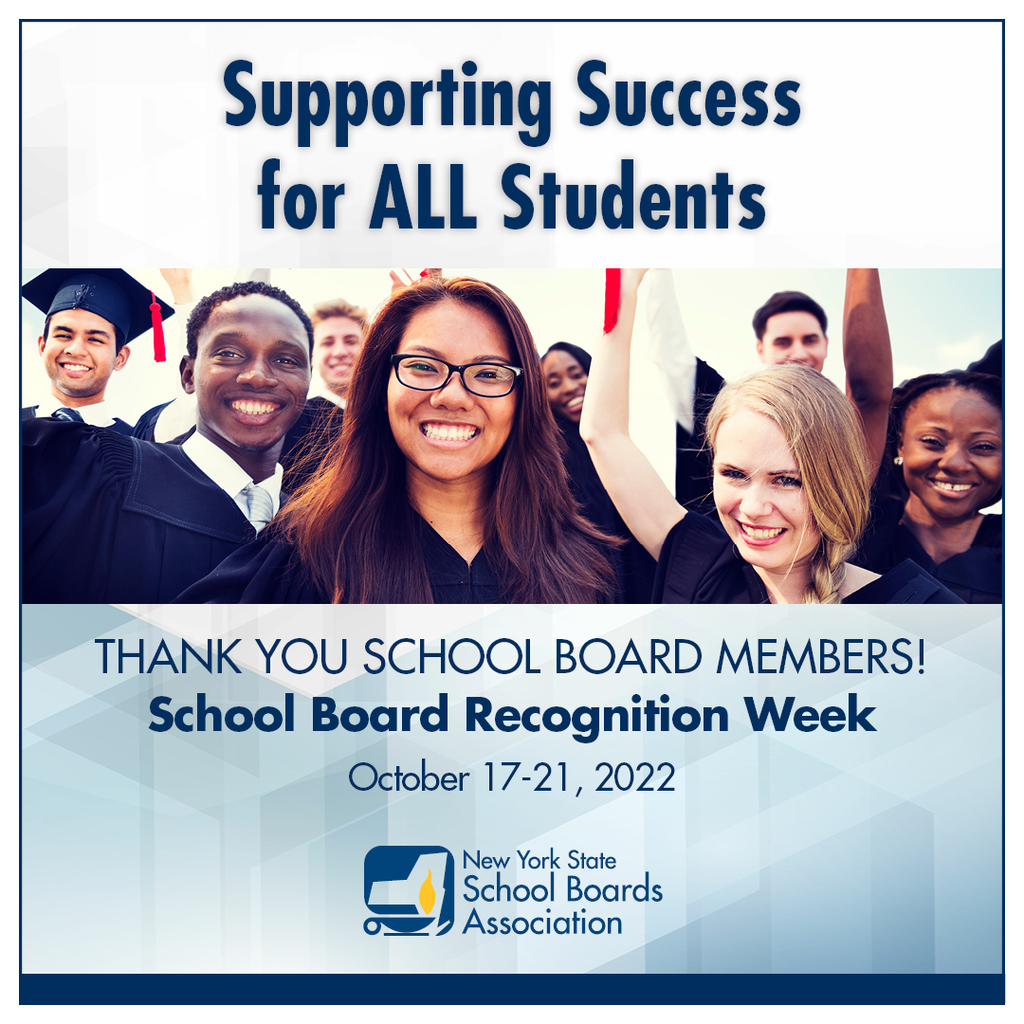 The Class of 2023 is running the Pembroke Gear Sale this year. We are using a new vendor, so there are lots of unique new options including: hoodies, jackets, short sleeves, long sleeves, ladies items, youth items, headwear, bottoms, bags, blankets, tumblers, etc. All ordering will be done through the ONLINE STORE from 10/3 - 10/31. The online store can be accessed here:
https://fancloth.shop/KFRXY
Orders will be shipped directly to you! You will also have the opportunity to give credit to any Seniors who advertised to you, during the checkout process, and they will win prizes for the gear they sell! If you have any questions, please feel free to email Miss Mac at
mmacinerney@pembrokecsd.org
.

The Junior and Senior High Student Council is excited for next week's homecoming week! Below is a list of information about events. T-shirts for class color day will be arriving on Tuesday morning, and will be handed out during lunch. Spirit Days: Monday - Kindergarten Day - dress as your kindergarten picture Tuesday - Soccer moms and BBQ dads - no combustibles or utensils! Wednesday - Class Color Day Seniors - Blue Juniors - Red Sophomores - Orange Freshman - Yellow Junior High - Pink Faculty - Purple Friday - Pembroke Pride - Wear green and Pembroke gear 10th Period Events: Monday - Hall Decorating by Classes Tuesday and Wednesday - Competitive games in the Gym - sign ups by the Junior High Cafeteria. These should be fun and ridiculous! Please encourage students to come watch! Tuesday - Human Hungry Hippos, Pie Eating, and Hula Hoop Head, Shoulders, Knees and Toes. Wednesday - Mummy Wrapping, Cheese Balls Chucking, and Musical Chairs Pep Rally, Thursday, October 6, 9th Period! Homecoming Game, Friday, October 7 @ 7:00 Pembroke vs Holley Center Street Food Truck will be here from 6:00-8:00PM Halftime performances by our Varsity Cheerleaders and Marching Band Post game Bonfire!